Our Services
Planning for and embarking on retirement can be both an exciting and anxious time for clients. When considering both the possibilities and risks, the importance of having a plan based on informed decisions is paramount. A more comprehensive knowledge base and planning process is required. Solving for rertirement income has more variables and potential strategies when compared to the accumulation phase that precedes retirement. We have a specific and detailed process called Envision® that will help address your concerns and questions and will incorporate individual preferences to seek to reduce anxiety. We address Market/Return Risks, Withdrawal Rate Risk (i.e. Spending Behavior), Inflation Risk, Healthcare/Unexpected Expenses and Lengevity Risk..
ENVISION®
The Envision planning process combines goal-based advice with sophisticated statistical modeling, Wells Fargo Advisors' unique Envision process creates an effective, easy-to-understand method for you to prioritize and achieve important life goals. Ultimately, the Envision process helps you live the one life you have the very best way you can, without undue financial sacrifice or over exposure to risk.
FINANCIAL STRATEGY ACTION PLAN (FSAP)
As a compliment to Envision, the FSAP brings together all of your key financial considerations. The FSAP allows us to address retirement, investment strategy, cash flow, liability management and education funding and estate planning strategies. We collect an array of financial information and those financial people that are important to you and your heirs. It is the information that we need to know to make your Envision plan successful.
WHO WE SERVE
At Merkel-Damer, we are very sensitive to the needs of women, especially those in transition. We like to work with partners and spouses, where both are equal and active participants in their financial planning. Everything we do is in the best interest of all parties involved. We've developed a practice serving clients and extended families, individuals, domestic partners and couples. Additionally, we serve where major life changes have occurred such as marriage, children, death and/or divorce. To concentrate on sophisticated planning needs, our household size is $250,000 in investable assets.
HOW WE CAN HELP
We focus in helping you navigate life's changes such as divorce, death of a loved one, job change, retirement, changing directions in mid-life, getting married, welcoming a child or grandchild to the family or taking care of aging relatives. All of these circumstances can be handled with careful planning.
Pre-Retirement Planning

In Retirement Planning

Domestic Partnership Planning

Education Planning

Longevity Planning
SERVICES PROVIDED
Strategic Planning
Financial Strategy Action Plan

Balance Sheet Strategies

Pension & Social Security Strategies

Critical Event Strategies

Risk Management Strategies

Income Planning Strategies

Tax Advantaged Investment Strategies

Estate Strategies

Philanthropic Strategies
Portfolio Review
Financial Statement Review

ENVISION® Review

Portfolio Design

Rebalancing Strategies
Stage of Life Planning
Education Planning

Retirement Planning

Elder Planning
Advice and Education
Financial Advice

Second Opinion for Friends & Family

Client Education

Market Information

Concierge and lifestyle services
---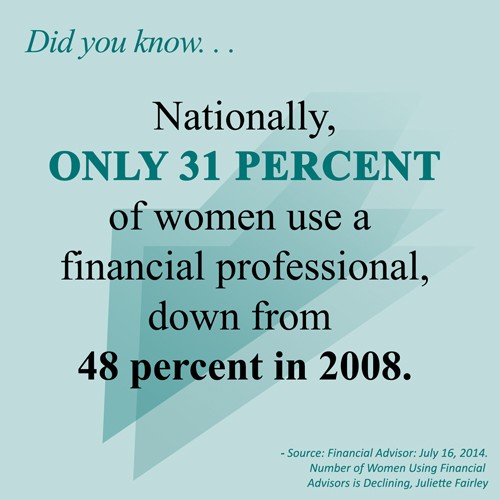 These numbers are staggering especially in light of the fact Women-Owned Business is one of the largest growing market segments.
::
Over the past 14 years, the number of women-owned businesses has grown at a rate that exceeds the national average - one and a half times the national average to be exact.
::
As of 2011, it is estimated that there are over 8.1million women-owned businesses in the United States, generating nearly $1.3 trillion in revenues and employing nearly 7.7 million people.
::

Overall, women-owned firms have done better than their male counterparts over the past 14 years. The number of men-owned firms (which represent 51% of all U.S. firms) grew by only 25% between 1997 and 2011—half the rate of women-owned firms. Employment in men-owned firms has actually declined by nearly 5% over the past 14 years, while revenues grew by just 33%, both well below the growth seen among women-owned and all U.S. firms.
Source: The American Express OPEN State of Women-Owned Business Report