About Virginia (Ginger)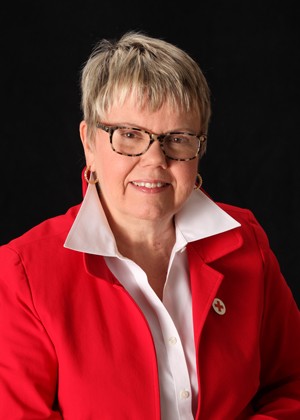 Virginia Merkel, CFP®
Managing Director - Investments
Accredited Domestic Partnership AdvisorSM or ADPA®
Retirement Income Certified Professional® or RICP®
Licenses: Life and Health Insurance, Long Term Care and Partnership Insurance
Registrations:  Series 7 & 65
Other Training: Social Security and Medicare
My Areas of Focus:
Pre-Retirement Planning
In-Retirement Planning
Philanthropic Planning
Estate Planning Strategies
Financial Service Experience: 35+ Years
Community Involvement:
American Red Cross of Greater Indianapolis: Board Member

Tiffany Circle of the American Red Cross: Founding Indianapolis Chair, National Council Chair

Louisville Presbyterian Theological Seminary: Trustee, Co-Chair of the Covenant for the Future Campaign

Conner Prairie: Past Board Member

Second Presbyterian Church: Elder, Choir Member
Education: Graduate of Indiana University Purdue University (Indianapolis, IN), Bachelor Degree in Finance; Graduate, Stanley K. Lacy and Ardath Burkhart Leadership Series
­­Personal: Married to Roger, a well- known professional artist
Notes of Interest
My Favorite…
Travel Destination: Roger (my husband of 39 years in July) and I have traveled all over the United Kingdom, Europe and the United States. Austria and Italy rank in the top ten.

Pets: We always have two dogs and two cats so I can't choose. Roger's in charge of the names.
Quote: "If you want something said, ask a man…if you want something done, ask a woman." –Margaret Thatcher
Color: Yellow, it makes me happy.
If I was stranded on an island with no possible escape, there are two things I MUST have:
Music and Books (my first childhood memory was getting a library card at age four). I get bored easily.
My Greatest Achievement:
Taking care of my family, my team and my clients.
My Parents:
My Dad taught me to give back and my Mother taught me to see the humor in everything.
With benefit of hindsight, the advice I'd give my 18-year-old self:
Don't believe everything you are told.
If possible, one super-human power I could possess:
Foresight.
One thing I wish I could do for every living person on earth:
Give them good health.
My Hobbies:
Shooting Sports Clays, Needlework, Travel, and Reading.
Distinguished Awards:
Wells Fargo Spirit Award*
Family Fun Fact:
We go nuts at Halloween.
Most Important Accomplishment:
My volunteer service (average 300-350 hours per year).
*The Wells Fargo Spirit Award was established to recognize a select group of Premier Advisors for their lifetime achievements – both personal and professional – and for epitomizing and reflecting Wells Fargo Advisors' values.  The Premier Advisors designation is held by a select group of Financial Advisors within Wells Fargo Advisors based on many factors including production.
My Associate(s):
Lori Westerfield, Senior Registered Client Associate, Officer.
Mary Reinking, Senior Registered Client Associate, Officer.
Ginger Merkel's Contact Information:
Address: 8888 Keystone Crossing, Suite 400, Indianapolis, IN 46240
Phone: 317-208-3712 | 800-428-6189    Fax: 317-573-9299
Email: virginia.r.merkel@wellsfargoadvisors.com